Online Auction Software built for auctioneers
Online auction software find reviews for online auction software in Australia and New Zealand. More importantly, the right online auction software company with a track record in helping auctioneers connect with bidders online. Fortunately, there is one auction software company that stands out as the preferred premium software and service provider, and that auction software provider is Webtron.
Webtron provides live webcast auctions (simulcast auctions) and timed online auctions for auctioneers to conduct online auctions from their own website. All in one auction platform.
Webtron has gained a market-leading reputation over the last 15 years for helping Auctioneers make the successful transition to online auctions. Auctioneers once transitioned have an impressive suite of auction tools at their disposal.
Webtron monitors and support each and every client's auction from it's support centre in Melbourne. So you will always have support for each and every auction you run.
Webtron has helped many well-known auction companies become the successes online we know them as today. Webtron clients have run thousands of online auctions over the last decade.
Why Webtron online auction software?
Webtron Online Auction cloud-based auction software can enable your company to conduct live webcast or Timed online auctions auctions all from one platform. So modern it just works on all devices including mobile without the need to download any apps.
Webtron are the visionaries in the online auction software market. As documented when they helped Melbourne Auctioneer Harrington Earl sell Australia's first house online. The house was sold via a live webcast auction in Brunswick way back- amazingly in 2007.
The difference is that Webtron's software has been specifically designed for auctioneers.
The Webtron platform is tailored to your own business. It utilises cutting-edge technology within the internet space. The software is branded to your firm and runs from your own website.

Webtron's online auction software is used daily across Australasia. It is widely used in the following auction verticals automotive auctions, heavy equipment auctions, clearing sales, general auctions, antique and collectable auctions, livestock, business liquidations, and many more.
Webtron system can give you the online auction solutions you need
🎥 Live Webcast Auctions
⏳ Timed Online Auctions
📈 Marketplace
👩‍💻 Remote Clerking option
✅ Everything you need & will run from your own website
So modern works on all devices without frustrating bidders to download apps
🏷 White Label Auction Software – 'value protect your bidders & IP' ( Not a group site
)
☁️ Modern Cloud based auction software
🧑‍💻🇦🇺 Local Australian Setup, Training & Local Ongoing Support
📲 1300 bidder support number so you can get on with auctioning your lots
🧾 Auction invoicing & reporting
🖥 Websites & marketing
😊 Simple for bidders and powerful for auctioneers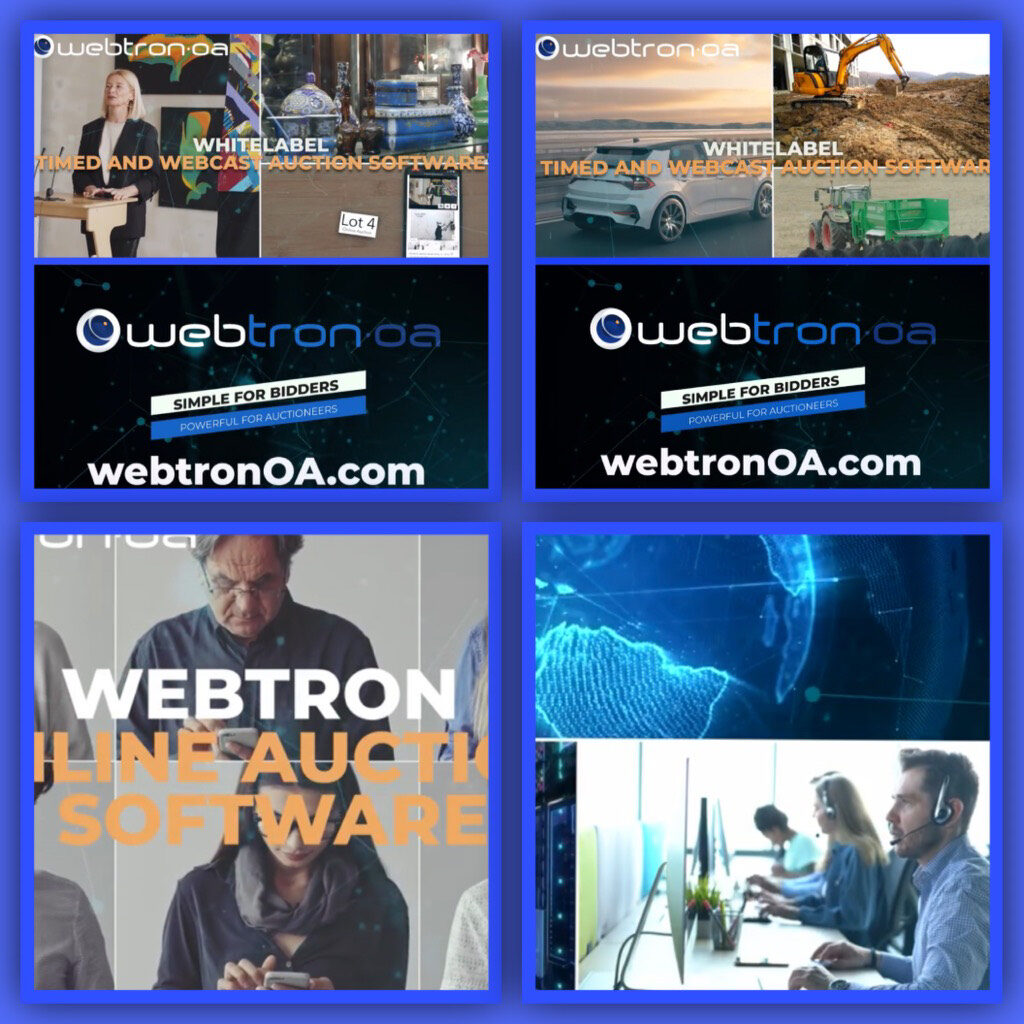 Webtron 7.0 Online Auction Software has arrived
There has never been a better time to upgrade your auction software to Webtron's 7.0 newest auction software release.
Take advantage of a white label auction solution that runs from your own website. Designed for Online auctioneers.
It's 'Simple for bidders and powerful for auctioneers'.
Please get in touch and arrange a demo for your business.
Want to learn more? Contact Webtron directly using the form below